Calgary Adventurer Laval St Germain Sends Message from Atlantic
We have sponsored Calgary Adventurer, Laval St Germain, on his Confront Cancer Ocean Row across the Atlantic in support of the Alberta Cancer Foundation. He set off from Halifax in early June and, with a 4,500km journey ahead of him, set course for Brest, France.
Set up with all the latest technology, he has been able to live tweet his adventure and email us updates, so we thought we would share them with you here!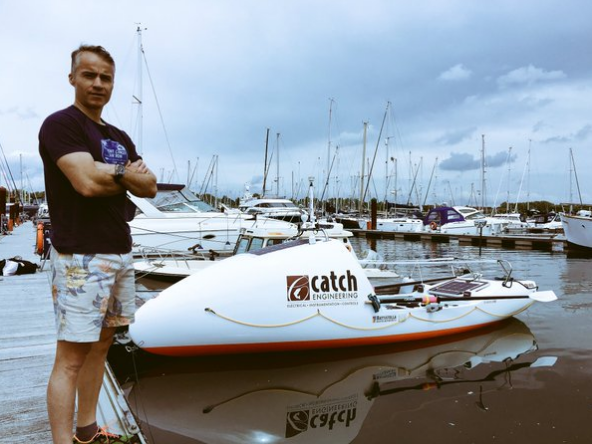 —

Good morning from the North Atlantic,

Since I am now 11 days into the trip I thought I would give all of you, my sponsors & partners, an update.

I am currently on my sea/para-anchor: picture a large underwater parachute attached by a 112 m rope to the bow of my boat. This significantly slows any drift in the wrong direction and is used in big storms to keep me bow to the wind. I'm using it today as I have an opposing wind pushing me back toward Canada. I've used it a few times already this trip. Hopefully, that explains some loops and circles you've likely seen on my tracking map, not lost, just hanging out on the sea anchor.

Overall the journey has been slow and steady with a few storms, a few cargo ships passing too close, but with stunning beauty and lots of wildlife for company. Porpoises appear almost daily and provide spectacular displays of agility and power, even coming within arm's length of the boat and lying with one eye above water watching me and then seeming to giggle, shoot off leaping and twisting thru the air.

Seals appear daily, but furtively in the distance, I assume fishermen must shoot at them since they are so cautious.

Whales pass daily like huge marine buses in the distance, although last night a pod of VERY large whales decided to keep me company for hours (most whales I've seen so far have been small, about the size of my boat). Blow holes roaring, flukes slapping the water and rocking my boat, with images in my head of one somehow getting tangled in my sea-anchor and dragging me and True Blue off to god knows where. It reminded me a bit of sleeping in a tent in bear country with a bear outside, a large one.

Only real tech issues have been my water maker, have had a few problems getting it to make freshwater, but with my tools, the manual and now direct access to the guy in the UK who sells this model, have it working. Had a problem with my Echomax radar enhancer, but a quick email to Chad at Catch Engineering had me back operational again in just a few hours.

Having real problems getting my biometrics to transmit from my hexoskin vest via the sat Internet, still faffing with that, but getting help from

Healng.com

 with these issues.

Clothing selections have been perfect for the conditions, always comfortable when rowing.

Physically feel great. First few days had sea-sickness, but after one day of Cinnarizine tablets, followed by about 5 days of general malaise, I seem immune now. My butt has taken a beating from all of the rowing. Have tried creams, Vaseline, different shorts, pants, etc., but the only thing that works is to row naked sitting directly on a medical sheepskin lathered in anti-friction cream. This technique presents one with some new unique sunburn opportunities and the possibility of a fishing trawler spotting a naked, scruffy rower wearing nothing but a diving knife strapped to one leg, slowly rowing by. Having said that, Dr. 'Dono' Kreutzer has been keeping tabs on my health and his very thorough first aid kit is something to behold.

The weather has been varied as you can imagine, from dead calm, sunny and hot, to rain, wind and fog, but never colder than 8-9C.

Eating well. Porridge with evaporated milk and an espresso for breakfast, with maybe a few biscuits with peanut butter. Snacking during the day on pemmican, biscuits and instant puddings, and if waves permit will brew up espresso during a break. Dinner is a freeze-dried dinner (actually very tasty), tea or water.

Non-porpoise entertainment via audiobooks (burning thru these too quickly), podcasts, music and real books. So far in audiobooks have finished Grunt, Finders Keepers and am now on to The Power of One and Avenue of Mysteries. In the real books department, reading Tribe and some sailing and storm tactics books.

Most importantly I have had lots of contact with Janet, Eric and Andrea. Although heart-wrenching at times missing things like soccer games, family dinners and grade 9 graduation nights, I know that 3 months will pass quickly for them (likely not for me).

I was told by other ocean rowers that the first 10 days are the toughest as you acclimatize to your surroundings, weather, the pitching rolling boat and life onboard your tiny vessel. I want to thank all of you for helping me get to the start of this adventure and thru the first 10 days, your support is critical and is not taken for granted.

Please continue to send people to www.confrontcanceroceanrow.com and please continue to remind people to donate to the Alberta Cancer Foundation, which, after all,  is what this expedition is all about.

Keep an eye on @JamesRedeker on Twitter, he is my weather and routing specialist and is running mission control (he also did my weather when I climbed Everest, he's from Regina, Saskatchewan, so he was an obvious Himalayas and North Atlantic fit…) His tweets will help explain our decisions and my looping twisting turning route. I can tweet, but cannot see Twitter or any Twitter direct messages or any other social media or email, just this email I'm using here.

Once again, many many thanks, more updates in the coming months.

Laval

—

Stay tuned to the blog as we continue to share Laval's updates and adventures, and pop into INK to find out how you can contribute to the Confront Cancer Ocean Row.

Erin @ Battistella

' .