Live a Big Life with a Calgary Public Library Membership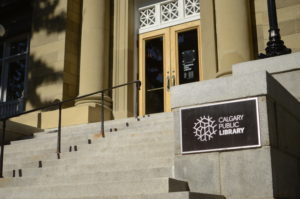 Too often minimalism is equated with getting rid of possessions. Although there is value in gutting our lives of the unnecessary, minimalism should be connected to a purposeful life of value, contentment, and freedom rather than something that takes away from us. One way to achieve this less-is-actually-more attitude is to use the resources readily available to you.

One of those resources is the Calgary Public Library. The library might not be one of the first things to spring to mind when pursuing a minimalist lifestyle, but it should, and here's why.

Library cards are free for Calgarians. F-R-E-E. This means you have access to the best materials and spaces — and membership doesn't cost you a cent! Digital resources alone include e-book loans through Overdrive, Hollywood blockbuster rentals through Hoopla, digital training with Lynda.com, as well as access to PressReader which delivers an endless stream of top news stories to read, share, and discuss.

Across the city, public libraries offer meeting rooms, and even teaching spaces available at hourly rates. This can be freeing for all kinds of small business owners, freelancers and side hustlers who would normally work out of their living but might need an office or boardroom on occasion. The Central Library is also home to the Idea Lab. This transformable space is perfect for brainstorming ideas and solutions for business and creative projects alike and holds up to 25 people.

Perhaps most importantly, the library offers so many ways to be imaginative, to explore, and to be truly present in your very best life. From e-books of the Harry Potter series to hosting your business meetings, Calgary's Public Libraries have so much value tucked away in a free membership.

Start using your resources to benefit you, and keep your life feeling big and free. So, what are you waiting for? Go ahead and sign up for this most valuable tool today. It's quick, easy, and can be filled out online, here. Bonus: there's no physical card to clutter your wallet.

For more minimalist inspiration, be sure to sign up to hear the latest on our West Beltline project, Nude By Battistella.

' .