Jill Stanton Kicks Off BUMP at gravitypope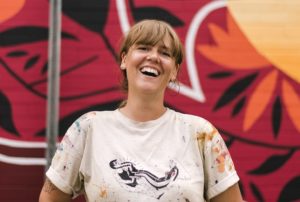 As we get closer to the launch of Nude in the West Beltline, we love taking in our new neighbourhood. Needless to say, we're so excited for the facelift happening between 10 and 11 Street SW. This week, the 2018 Beltline Urban Murals Project (BUMP) got underway beginning with the wall that we've sponsored at gravitypope.
Edmonton-based muralist Jill Stanton has been working through a whirlwind of Calgary weather to share her own take on an iconic YYC symbol for her first piece in the city: cowboy boots. We caught up with Jill on a quick break in 30 degrees C weather to talk about her inspiration and her involvement with BUMP.
Battistella: Can you tell us about the mural you're working on now?
Jill: It's a two-part mural called "Pardners." Growing up in Alberta, you're always aware of this cowboy thing happening and everyone knows that Calgary is the epicentre for it. I think a lot of the aesthetic is that kind of crazy Stampede — glitter cowboy hats and daisy dukes and stuff— for women. I wanted to give a different take, a different voice, on the femme cowgirl theme with these strong graphic cowboy boots that are related. They could be friends or partners, I guess you could say.
Battistella: Do you own a pair of cowboy boots?
Jill: You know, I used to own a pair that looked very similar to the [purple and red] ones over there. They were modelled after those. I gave them away because I'm super dumb, but I miss them.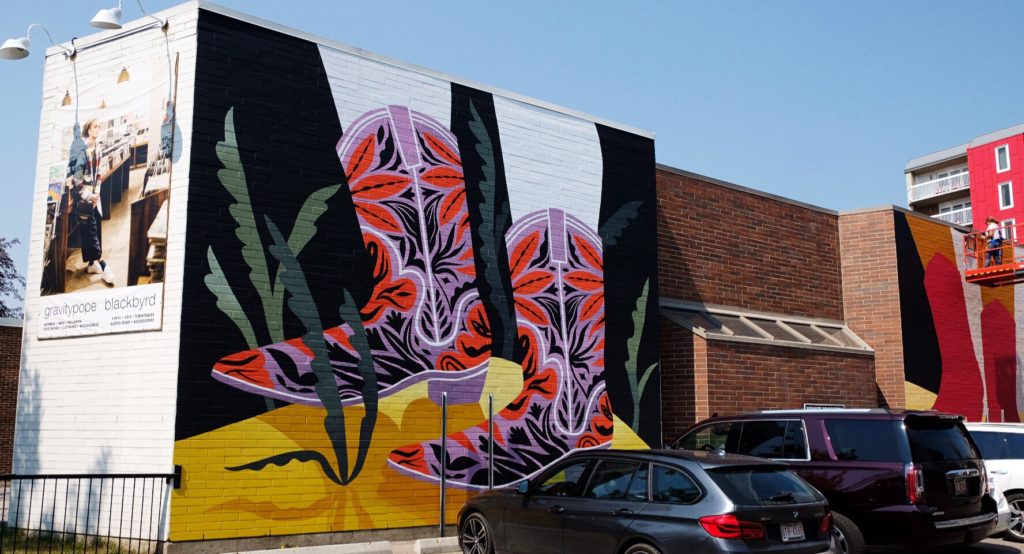 Battistella: So, you've created an iconic homage to them for posterity?
Jill: Yeah. Kind of. I'm really attracted to that sort of classic '70s cowboy look. Like all of those kinds of weird browns and reds and really beautifully tooled leather. So, I wanted to take some of those elements and put them into a nice graphic mural that's very punchy and bold.
Battistella: Do you have any other work in Calgary?
Jill: I don't actually. This is the first time I've painted a mural here, which is crazy. This year I actually got in touch with BUMP because I put out a call on Facebook. I was like, "Everybody, I really want to do a Calgary, cowboy-themed mural at some point. Let me know if there's a line anywhere!" I'm happy to finally be doing my cowboy-themed mural for Calgary.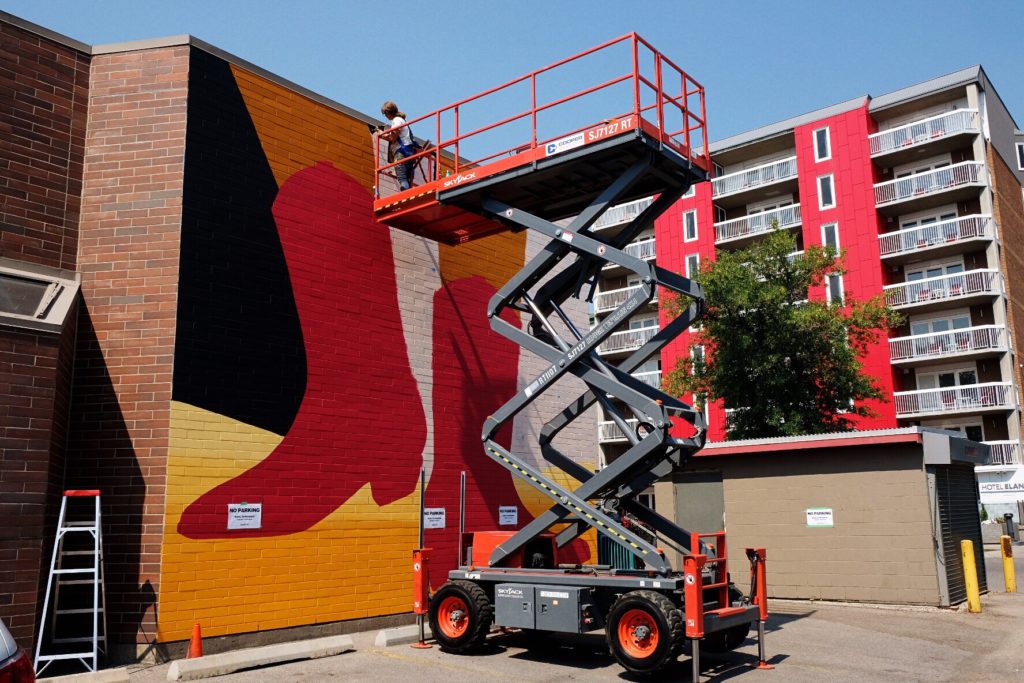 Battistella: What do you think a project like BUMP does for an area like the Beltline?
Jill: So, I'm not super familiar with Calgary, but the Beltline is one of the neighbourhoods that I actually do sort of know, so it's nice to be here. It's always good to have street art and murals in a city because it adds to a visual culture. And it shows that the people who live here care about their city and care about what it looks like.

To learn more about the Beltline Urban Murals Project, visit yycbump.ca.

Header photo by Alyssa Henke.

' .