A Conversation with Laval St. Germain, Calgary's Most Interesting Man
Whether we're summiting a peak or taking a leisurely once-in-a-while weekend hike, there's no doubt that every Calgarian comes preprogrammed with a sense of adventure. We wouldn't live so close to the mountains if we didn't. However, some of us like to take things to extreme heights — literally.
Living amongst the numerous adventurous souls of Calgary is world-famous adventurer Laval St. Germain. Laval is the only Canadian to have climbed Mount Everest without the use of supplemental oxygen, the only person to have climbed and skied Iraq's highest peak and is the holder of the fastest ever crossing of the North Atlantic Ocean by solo ocean rowboat from mainland North America to mainland Europe.
We're so excited to be sponsoring Laval's next adventure – 90° South 7th Summit – which is a solo ski expedition to the South Pole followed by a climb of Antarctica's highest mountain. And we're even more thrilled to have had a chance to sit down with Calgary's Most Interesting Man to hear about his previous expeditions before he sets out.
Battistella: Are you a natural-born adventurer, or was this something you developed a passion for at some point in your life?
Laval: Natural born. I always loved being outdoors, emulating my childhood heroes like Tarzan — the only difference is that I wear shoes now.
B: What do you do when you're not climbing mountains and rowing across the ocean?
L: I am a Boeing 737 Airline Captain for an airline called Canadian North.
B: Are you more at home on the water, in the mountains, or in the air?
L: Mountains and air are my natural environments, but skiing on frozen water (AKA snow) is a true passion as well.
B: What was your first major summit?
L: My first summit was a remote mountain in South America, an Andean giant in Bolivia called Cerro Sajama, which stands at over 6,500m (21 500'ASL) at the edge of the Atacama desert.
B: What was it like?
L: Painful! I suffered from altitude sickness, gastrointestinal issues, and snow blindness — but I was hooked!
B: What came next?
L: After that came a solo climb of the highest mountain in South America, which is also the highest mountain in the Western Hemisphere. It's called, Aconcagua and is located in Argentina, at about 7,000m (22800'ASL).
B: What made you decide to climb Mount Everest without supplied oxygen?
L: One of my childhood inspirations, Italian climber Reinhold Messner, was the first to climb it without oxygen and I dreamed of doing the same. Something about it being the ultimate physiological challenge was a real siren call to me.
B: What has been your greatest physical challenge to date?
L: Hmmm, purely physical would be Everest. The descent took every last ounce of my strength to make it down alive.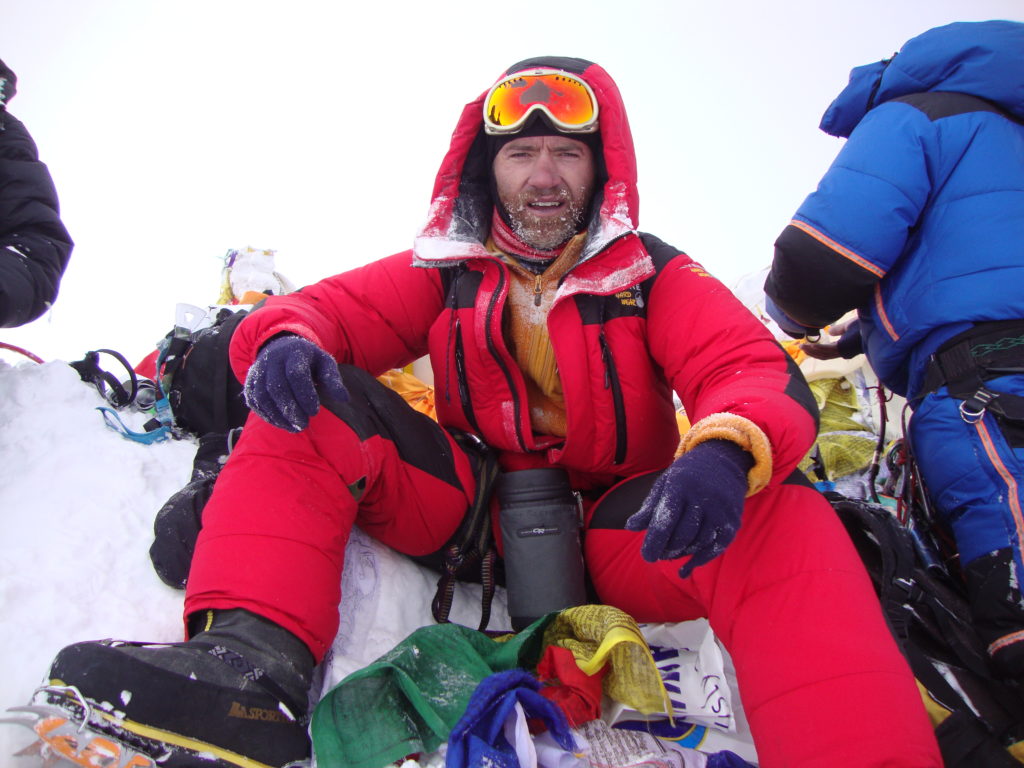 B: What does your summit in Antarctica entail? What's the timeline like and where exactly will you be?

L: Well, this is more than a summit. First will be a nearly two-month solo ski to the South Pole pulling a 110 kg sled for 1,200 km. Once I do that, I will fly to the highest peak on the continent and do a two-week expedition to climb Mount Vinson.

B: How do you prepare for an adventure like that?

L: Train. Always. Train smart. Did I mention always? I do something every day: weights, running, running stairs or cycling, and have been doing so for years. So nothing different in the fitness preparation department for this expedition. For the non-physical preparation, I largely rely on my experience for doing these types of things. Years of experience is important.

B: What are the unique challenges for this upcoming summit?

L: Isolation, constant daily exertion and temperatures from a balmy -20C to a more likely -45C with strong winds.

B: Where is your favourite training spot in Calgary?

L: In the actual city proper, I would say runs along the Elbow and Bow Rivers, stair running in the inner city neighbourhoods and, further afield in the city, trail runs in Fish Creek Park or Nose Hill Park.

B: What advice would you give to aspiring adventurers?

L: Don't wait. The summits will out-wait all of us, but life is short. If you have a summit or a goal of any kind, sometimes getting started is the hardest part. Just like in my motto: "Step out Shove off," and start. Unzip that tent door, open that front door or whatever is holding you back and step out. Shove off from that safe harbour, that comfortable dock or whatever it is keeping you tied to shore and get out there.

B: Tell us more about your partnership with Battistella. When did it begin and what does it allow you to do?

L: Battistella stepped out from what a typical developer would do and teamed with me on my solo row across the Atlantic Ocean as a sponsor. This company really promotes intentional living with homes in vibrant urban communities. I love that their projects focus on access to pedestrian or walkable neighbourhoods, cycling and a reduced reliance on the car.

My own philosophy of living with intent meshes perfectly with theirs and on this expedition to the South Pole, my complete intentional living "home" will all be contained in one high-tech, carbon-fibre sled that I drag behind me. Battistella owns that sled and I'm very proud to have their logo on me and my — actually their — sled!

B: What's next after conquering 7 of the 7 summits?

L: First of all, I don't use the word conquer. It is impossible to conquer these beautiful peaks and blank spaces on the maps. I'm just thankful and honoured to touch the top and get back down alive.

I'd love to get back, take a day or two off and then do some backcountry skiing with my daughter Andréa, some scuba diving with my son Eric and a wine tour or two with my wife Janet.

B: Is there a secret society invite awaiting?

L: Yes, but it's a secret. Hence the name. Sorry.

Want to hear Laval share more stories about his expeditions? He'll be joining us at the NUDE by Battistella presentation centre on November 1. You could win a pair of tickets for this already sold-out event by entering our Instagram and Facebook contests leading up to the evening. Be sure to enter before 10 AM on October 31. 

Even if you don't win tickets, you can catch Laval's talk by tuning into our Facebook Live on November 1 at 6 PM.

You can help Laval reach his fundraising goal of $200,000 for the Alberta Cancer Foundation by contributing here.

' .