5 Local Businesses to Buy Home Decor in the West Beltline
One of the best things about living in the inner city is exploring local boutiques that offer the unique pieces you will never find in Big Box land.
If you are on the hunt for something to spruce up your digs and show off your unique style, check out some of our favourite decor destinations for the perfect treasure or simply some home inspiration.
1. Walls Alive
If you are currently living with empty walls it might be time to spruce things up! Shop local and pop into Walls Alive located at 1328 17 Ave SW. They have a considerable collection of painting supplies and colours. Whether you like your living space a warm neutral or intergalactic purple, Walls Alive has everything you need to start your next project with expert advice.
2. 4Living
4Living, located at 1445 17 Ave SW, features Canadian-made quality furniture that ranges from modern classic to ultra-sleek. It's a great place to find multi-functional pieces perfect for condo living.
Lighting and textiles are important for the home's coziness. Chintz & Company has a few locations in Western Canada, including a location at 1238 11 Ave SW in Calgary's Beltline. It's so close to NUDE, you can carry your new decor home! How about softening your floors with the texture of a sheepskin rug? Or switch out your bedroom light with a chandelier. Fancy, right?
In the heart of 17th's shopping district, you will find Steeling Home, at 1010 17 Ave SW. If you love all things local and eclectic, this is the right place to find your next decor addition. YYC focused Steeling Home is chock full of unique treasures, including expert bar items, unique textiles and plenty more
5. Zoe's Store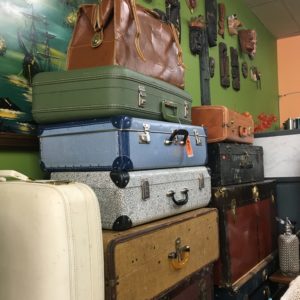 While it is not for everyone boutique consignment shop Zoe's Store, located at 1403 14 Street SW, is perfect when you're in the mood to hunt down your perfect treasure. If you make it in past the items put out on the front stoop, head to the left for all Zoe's for sale home finds. Our suggestion is an antique trunk. They are great for storage and double as a coffee or side table, plus Zoe always seems to have them in stock!

Do you have a favourite local home decor destinations? Share it with us, and our community, on Facebook, Instagram or Twitter!

' .