NUDE: Get to Know Your Future Home a Little Better
From the idea to the execution, it's a
long
process of research, debates, and careful planning. 
When it comes to our buildings, every decision made takes quality, style, functionality, and durability into consideration. Each element plays a huge part in making our buildings unique, and each is as important as the next.
We only build our buildings one at a time (quality over quantity), and we design them from the inside out. We work closely with the architects to carefully craft the condos first, and then we think about the outside. 
For us, the kitchen dictates every floorplan; it is the heart of the home, after all. After talking to our residents and renters, we deliberately decided on linear kitchens and no island, in INK and of course, NUDE. In reality, linear kitchens are U or L shaped kitchens which have been stretched along a wall. You have the same amount of storage and the same amount of worktop space. The difference is, with a linear kitchen you are in control of more floor space, which is vital in a smaller condo. And it means you can add an island if that's what you'd like to do…
Unique to NUDE are the appliances we've selected, and we can tell you now, we spent a very long time choosing them. There was so much going back and forth with these appliances you'd of thought we were naming our firstborn. And it was not an easy decision to use smaller, more compact appliances. 
The kitchen may dictate the floorplan, but the floorplans are defined by the space available. So it was either a full-sized fridge and dishwasher or more counter and cabinet space in a sleeker, more practical kitchen. We won't go into the nitty-gritty of it all, but some of the questions we ask people when they're unsure of the appliances are; how long does it take you to fill up your dishwasher? Do you even use your dishwasher? And how often is your fridge completely full? 
We also don't have full-sized washers and dryers (shock horror) in NUDE. Still, it's the same as the fridge and dishwasher, you either have these full-sized appliances that you might use to capacity every once in a while, or you have the extra floor space and storage. We asked one of our renters in INK to test out the washer and dryer for us, and they loved it. The feedback? They're quick, reliable and they wash and dry your clothes really well. What more do you need?
As the mechanics of the kitchen come together, we start to think about interior design. We discuss colour palettes, cabinets, the walls, the ceilings, and of course, the floors. Concrete floors in our condos are a given; it's a conscious, stylistic, and practical decision, and we get asked about them a lot.
'Concrete floors are a cheaper option.' We hear that one frequently, and actually, they're not. It would be more straightforward and cheaper to put down laminate or carpet, but how boring would that be? Our concrete floors are handcrafted, which means every floor, in every condo, is unique. 
With concrete floors, each imperfection is shown, and once the floors are polished, each imperfection is amplified. That's why our team has to be so careful not to scratch or dent the floors throughout construction! There's a fine line between character and damage. Which on a building site, is tough. In fact, in INK, we finished the floors three times to get the right look!
Not only do concrete floors allow us to offer something unique in a production building, but they have practical advantages too. They are excellent insulators, and they're the kind of floor that wears in, not out. They also offer flexibility, so should you decide to cover the concrete with laminate, it's easy and inexpensive. All you need is a trip to Home Depot, a couple of days, and a bit of patience. Just don't forget the underlay.
When it comes to our exposed ceilings, some people love them, others not so much, and some people love them once they understand them. Like the floors, our ceilings require extra care and attention to detail but we love them. Not only do they add to the overall aesthetic, but they add extra height. By exposing the mechanical elements, you suddenly have an additional 6 inches height making your condo 9 1/2 feet, floor to ceiling, which, in a small space, is incredibly important. An added bonus of the exposed mechanicals is that it allows us to run them along the windows, which pushes hot air down to the concrete, meaning no cold spots by your windows and at NUDE you've got a lot of windows! 
We design our buildings with you in mind. We think about how you use your home, and we understand the importance of making it your own. It is an elegant, thoughtfully designed canvas that allows you to make it extraordinary.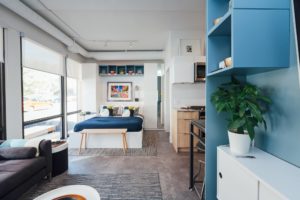 ' .