INSIDE INK: April 2018 Construction Update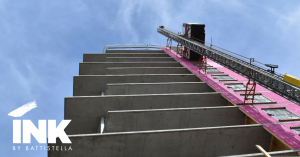 The giant red construction crane that adorned the south side of INK for the last 11 months was removed in early April. That is one small step the crane company, one giant leap for INK's progress! The team is now sealing in the exterior where the crane connected to the building and is busy inside every new home.
Read on for a floor-by-floor summary of what else is happening inside INK:
Parkade – The elevator has arrived and is currently stored in the parkade in "one million" pieces. Assembly of the elevator system will commence shortly.
Main Floor – Studs are in on the ground floor delineating rooms and hallways.
2nd Floor – Cabinets are in and painting is complete. The concrete floors are being cleaned and readied for sealing.
3rd Floor – Paint has been sprayed on the trim and walls. Bathroom mirrors are being hung.
4th Floor – Sinks are being secured under the countertops in the kitchens and bathrooms.
5th Floor – Countertops and backsplash tiles have been installed.
6th Floor – Kitchen and bathroom cabinets are complete. Finishing carpentry (ex. door trim) has started.
7th Floor – Kitchen and bathroom cabinets are currently being installed. The primer has started being painted on the walls.
8th Floor – Mudding and taping have been completed and the walls are being sanded and prepped for next steps. The steel front entry door frames have been secured in every home.
9th Floor – Drywall is hung and the team is busy mudding and taping.
11th Floor – Electrical rough-ins and clean up is occurring. Party wall systems (between units) have been completed and drywall coming shortly.
12th Floor – Framing is complete and electrical rough-ins are in progress.
13th Floor – Pipes have been insulated. Snap lines are drawn on the floor where steel stud framing will be placed shortly.
14th Floor – Finishing the final wall of window installation.
Rooftop – High-efficiency hot water tanks and boilers are in the mechanical room on the roof. The patio stones are being laid and soil is ready in the planters.
' .