Your First Look at NUDE by Battistella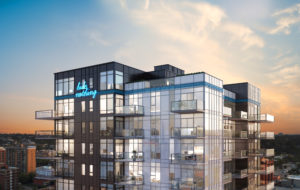 At NUDE, we're stripping it back to what matters.

Call it minimalism, call it simplicity or call it a renewed focus on what's most important. Either way, we're celebrating lives filled with more — more moments, more experiences, more laughs, more friends. Those are our treasures, and we're sharing them freely. We're opting for lives that are as much about what happens at home as what happens outside of it.

Inspired by timeless architecture, NUDE reflects a considered aesthetic where symmetry and articulation combine to create a simple and calm elegance.

At the top, a rooftop garden, BBQ kitchen, and resident lounge all enjoy 360 panoramic views and combine to create a lasting addition to our city's skyline in the form of a glowing blue band and a proclamation for individuality: Hide Nothing.

NUDE was designed from the inside out. We started with the people who are going to call this building home and created floorplans that reflected their lives — linear kitchens mean larger living spaces, and custom millwork means bigger bedrooms. Balconies with privacy from neighbours and sweeping city views mean spending more time outside.

Suite sizes range from 400 to 800 square feet and place the needs of daily life at the forefront. It's about having exactly the right amount of space — and the flexibility to layout your furniture to suit the dynamic lifestyle NUDE enables.

Starting in the $190s, NUDE offers 177 homes that cost less money, located in Calgary's most dynamic neighbourhood, the West Beltline.

More detailed information will be released shortly. To keep up to date on the latest information about NUDE by Battistella, register at Battistella.ca/nude.

We can't wait to welcome you to our sales centre opening this September.

' .